Applies to:
Reseller Hosting
Introduction
This is a quick step-by-step walkthrough for upgrading your Reseller Hosting account via the 34SP.com Control Panel.
---
Upgrading your Reseller Hosting account
---
STEP 2
Choose 'Manage Sites'
Once you have logged in, click on the 'Manage Sites' icon. This will bring up a list of websites or domain names you have in your 34SP.com account. Simply choose your Reseller Hosting account.
---
STEP 3
Choose 'Upgrade'
After you have clicked on the website or domain name you wish to edit, you will be presented with a page of icons. Please click on the tab labelled 'Upgrade'.
Please note: It's not possible to upgrade all Reseller Hosting accounts. If you cannot see an 'Upgrade' tab, it means your Reseller Hosting account is not eligible for being upgrading via the Control Panel. If you wish to discuss alternative upgrade options, please contact our support team.
---
STEP 4
Choose your upgrade
The 'Upgrade' page provides an overview on your upgrade options. Reseller Hosting has 2 different 'packages', '30 Domain Hosting' & 'Unlimited Domain Hosting'.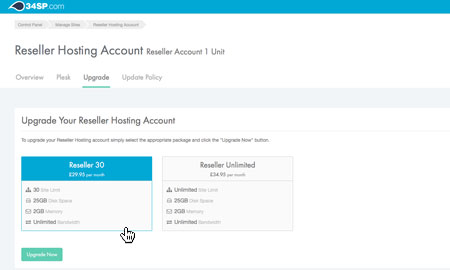 ---
STEP 5
Ordering your upgrade
To upgrade your Reseller Hosting account, click on the package, then click on the button labelled 'Upgrade Now'.
The upgrade will then by added to your shopping basket. At this point you can either add more products to your shopping basket or click on the 'Proceed to Checkout' button and begin the payment process.
Was this article helpful?