Applies to:
Professional Hosting
Universal Hosting
Reseller Hosting
WordPress Hosting
Introduction
This is a step-by-step walkthrough for updating your older WordPress blog posts to modern Gutenberg blocks.
In WordPress 5.0, the classic content edtior used for editing posts and pages was replaced with a brand new block editor, known as Gutenberg.
Gutenberg block editor is a very different approach to creating content, and makes it much easier to create good looking, rich content for either posts or pages.
---
Converting old posts to Gutenberg block
STEP 1
Edit your post or page
Firstly, you'll need to log in to the WordPress admin dashboard and locate the post or page you wish to edit.
---
STEP 2
Check for classic content
It is easy to spot older, pre Gutenberg content, as it is contained in a block labelled 'Classic'. If you can see the Classic label, then your old content can be converted to Gutenberg blocks.
---
STEP 3
Click on the classic content block
Clicking on the content you wish to convert will display the Classic block toolbar. Click on the the toolbar menu (represented by an icon with 3 dots), located on the right hand side of the toolbar.
---
STEP 4
Choose 'Convert to Blocks'
Then simply click on the menu option 'Convert to Blocks' and WordPress will convert your old content, dividing it into different Gutenberg blocks.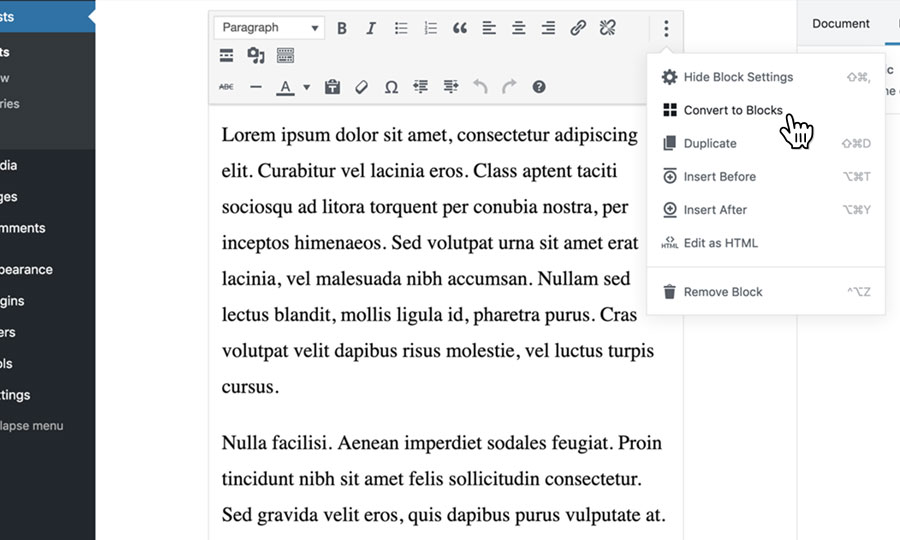 Was this article helpful?