Introduction
This is a quick step-by-step walkthrough for setting up a domain name redirect.
34SP.com controlled domain names come with free domain redirects. We also provide a free email 'catchall' facility as part of our redirect service.
---
How to set-up a redirect
STEP 1
Login to your account
Firstly, you'll need to login to your 34SP.com account at https://account.34sp.com.
---
STEP 2
Choose 'Manage Sites'
Once you have logged in, click on the 'Manage Sites' icon. This will bring up a list of websites or domain names you have in your 34SP.com account. Simply choose the website or domain name to wish to edit by clicking on it.
---
STEP 3
Choose 'Manage Redirect'
After you have clicked on the website or domain name you wish to edit, you will be presented with a page of icons. Please click on the icon labelled 'Manage Redirect'.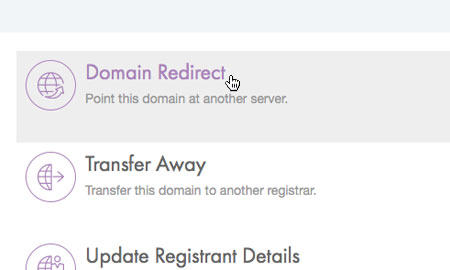 ---
STEP 4
Add your redirect
This will bring up a form. In the field labelled 'Redirect URL'enter the URL you wish to redirect too. The rest of the fields are optional.
Setting the 'Redirect Type' to 'Standard' will setup a 301 redirect, we recommend using this type of redirect if you are concerned with SEO. Choosing 'Framed' from the drop down creates a framed redirect that allows you to specify meta data for your redirected page, including page title, meta description and meta keywords.
You can specify a catch-all email address for your redirect, meaning all emails will be forwarded to the address you specify. If you don't want to catch-all of your email to a single address, simply leave this field blank.
When you're done, click 'Update Redirect' to save your changes.
Was this article helpful?