Applies to:
Professional Hosting
Introduction
This is a quick step-by-step walkthrough for viewing and editing SMTP details via the 34SP.com Control Panel.
---
Managing SMTP
---
STEP 2
Choose 'Manage Sites'
Once you have logged in, click on the 'Manage Sites' icon. This will bring up a list of websites or domain names you have in your 34SP.com account. Simply choose the website or domain name to wish to edit by clicking on it.
---
STEP 3
Choose 'Email'
After you have clicked on the website you wish to edit, you will be presented with your website overview page. Choose 'Email' from the product navigation.
---
STEP 4
Managing your SMTP
The 'Email' page provides an overview of your email addresses, as well as information on your SMTP usage.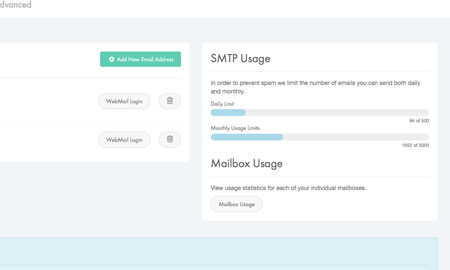 ---
How to change the SMTP password
STEP 1
Edit your SMTP Password
Due to security reasons, it is not possible to view a password for an SMTP account. If you do not know you SMTP password, we recommend you reset it. If you wish to edit the password of an existing email address simply click on the email address you wish to edit.
---
STEP 2
Enter new password
This will bring up a form. Simply fill in the form with your new password. When you're done, click 'Save Settings' to save your changes.
Please note: Each mailbox shares the same password for incomming and outgoing (SMTP) mail. If you change your password, you will need to update both the incomming and outgoing mail setting in your email client.
---
How to upgrade your SMTP account
Upgrade to Private SMTP
SMTP mail accounts are limited to sending 500 emails per day, or 5000 per month. Private SMTP is designed for users who need to send large volumes of email or simply want to have a private SMTP server dedicated to their own mailing purposes
In order to ensure maximum email processing speeds, Private SMTP is not enabled with with anti spam or anti virus software. Private SMTP is provisioned as a 34SP.com managed VPS server, with its own private IP address.
To upgrade to Private SMTP, simply scroll down to the bottom of the 'SMTP' page and click the button labelled 'Upgrade to Private SMTP'. Complete your order by following the onscreen instructions.
To find out more information on Private SMTP, visit our SMTP Hosting page.
Was this article helpful?