WordPress Hosting


Fast, secure, managed WordPress Hosting

With more than 20 years website hosting experience we know what it takes to support rock solid, lightning fast WordPress websites. Our managed WordPress hosting platform was built from the ground up to offer the very best WordPress solution at the most competitive price in the UK.

Sign Up Now
Free Migrations
Need help moving your WordPress site to our platform? Our WordPress specialists are happy to help migrate your data and advise on the best practices to ensure a smooth transition. Avoid downtime and hassle.
Simple testing and staging
Our staging feature lets you spin up a test copy of your site in seconds. From there you can test new themes and plugins without affecting your live site. Another click is all it takes to copy those changes over to your live site. Made a mistake? A third click resets quickly removes the changes to your live site.
Free SSL with Let's Encrypt
Every account comes with a free SSL certificate provided by Let's Encrypt. Securing your website is just one click away and completely free. SSL certificate payments and renewals are a thing of the past. We provide 100% free SSL on all our plans.
Millions Of Page Views
We don't place any restrictions on your website. Unlike other managed WordPress providers we don't limit the number of page views or traffic that your site can process each month. Grow your site at your own pace without the worry of limits.
Intuitive Control Panel
Manage your websites through our custom in house control panel. Add billing and tech contacts, review usage and login to your WordPress site directly. Managing multiple sites for multiple clients just became so much simpler.
Security First
Our security suite will keep your WordPress website safe from harm
Serious Security
We install the latest WordPress release on creation of your account, direct from WordPress.org. After that we immediately harden your account with a number of best practice approaches. Your account is then protected around the clock by our customised WAF, providing a layered approach to security.
Managed Automated Updates
Keeping your site, themes and plugins up to date is the single most important and easiest step you can take to keeping your site secure from hackers. We take the headache out of this for you and manage the whole update process. In addition to this, we also run daily updates on your container to ensure every component of your server is up to date with the latest security and stability patches.
Free Let's Encrypt Certificates
Let's Encrypt is a free, automated and open certificate authority that offers free SSL/TLS certificates. Just like a paid for SSL certificate, a Let's Encrypt certificate provides HTTPS protection for your websites.
Daily Backups
We backup your website every day, meaning you can roll back quickly anytime you need. Backups are 100% free on our hosting platform.
PCI Compliance
All WordPress Hosting accounts are PCI compliant with the security and procedural standards created by the Payment Card Industry Security Standards Council. PCI Compliance ensures security when processing credit card transactions or storing credit card information.
One Click Snapshots
Take an instant snapshot of your WordPress site and store up to five copies on our servers. You can also download your snapshot at any time to ensure you have an offline copy of your site for testing or portability.
Outstanding Performance
The fastest WordPress hosting experience possible
By building our WordPress hosting stack from the ground up, we're able to leverage the very best web technologies for the fastest WordPress hosting experience possible.
To demonstate the impressive speed of our WordPress Hosting plan, we ran a speed test on two identical WordPress websites. One test running on WordPress Hosting, the other on our best selling hosting plan, Professional Hosting.
WordPress Hosting
Professional Hosting
Test based on 60 seconds, with incremental increase in concurrent users with a timeout set of 7 seconds.
NGINX
A fast web server with lower resource usage than the more commonly used Apache. We install an optimised version of Nginx and also combine that with Fast-CGI cache to speed up sites. In addition we use ngx_pagespeed, designed by Google which provides a range of performance improvements to any site.
Redis
Even though SSD disks are fast, RAM is quicker. By caching your database content directly in RAM, page requests are accelerated even further.
PHP-FPM
Independent worker pools, and tuned to provide lightning quick response times.
SSD Storage
Some of this extreme performance comes from the use of SSD drives to power each and every managed WordPress server we run. SSD drives remove the traditional bottleneck of disk input/output speed. That means just one thing for your site: speed.
Managed Hosting
UK Based, Open & Honest
Get the best possible technical support and hands on guidance with our team of highly trained WordPress experts, direct from our Manchester office. We're available seven days a week over email and telephone, 8am thru 8pm daily, and have been in business for over eighteen years. We have no hidden fees and all prices are inclusive of UK VAT.
Commitment to Service
We'll do our very best to keep your site online, secure and as fast as possible.
Help & Advice
If you have a problem affecting the performance of your site, we will help track down the cause of your issues.
Free Migrations
If you'd like help migrating your website to our managed WordPress hosting, we can handle the whole migration process for you.
Developer Friendly
WordPress Hosting gives you the freedom to harness the power of WordPress
WP-CLI
For the serious WordPress developer, we offer the WordPress command line tools right out of the box. The WP-CLI tools let you interact with your account directly from the command line, you can find how to use WP-CLI with WordPress Hosting here.
Git
This free, open source software is the version control system of choice for developers the world over. It also comes installed and ready to use on every 34SP.com managed WordPress plan.
Staging
One click creation to make a staging site, allowing you to make changes before pushing them to your live site. When you are ready to push, simply press a button to push changes from staging to live and do so in reverse.
Mercury Email
All WordPress hosting accounts come with access to 34SP.com's cutting edge Mercury Email platform as standard. Mercury supports IMAP, POP and SMTP email, and allows you to easily manage your mailboxes, contacts and calendar via a simple and clean webmail interface, or via your favourite mail client.
"It's nice to speak to people who are dedicated to supporting you."
Andrew Shanahan, MAN V FAT
"It means a lot to me that my website is reliable."
Sara Tasker, Me & Orla
"I'm treated with courtesy and efficiency whenever I contact the team."
Eamonn O'Neill, Journalist
Read more
Reliable hosting from a company you can trust
Website Hosting We're rated
See Google reviews
Customer support
Our UK based support team are open, honest & transparent
We pride ourselves on providing the very best technical support via either phone or email, 365 days a year. Based in our Manchester office, our hosting experts have supported professionals like you for over 20 years.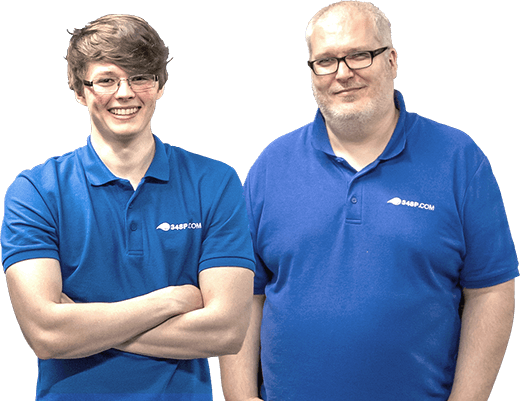 The most affordable managed WordPress Hosting solution in the UK
Our prices always include VAT, there are no minimum contract periods and no hidden fees. The price you see is the price you pay.
Want to know more?
WordPress Hosting FAQ