Customisable Hosting
For demanding websites that need increased uptime and performance
For businesses, organisations or larger websites with more specific needs this customised platform is a perfect match.
Less downtime
Your hosted site will run from its own private container - a VPS with resources ring fenced from other users.
More speed
A fast website can help with everything from increased sales to better SEO. Thats why we use SSD storage to ensure your site responds faster.
More security
We can also deploy security features such as Fail2ban and mod_sec to protect your site against unwanted intruders. Contact us for more information.
No hassle
With a dedicated IP address and no database, subdomain or bandwidth limits, host your website without constraints.
PCI compliance
Universal Hosting is preconfigure to be PCI compliant, so you can handle sensitive customer data such as credit cards.
UK based support
Get the best possible technical support from our UK based support team, either phone or email, 365 days a year.
Run the software you need
Performance, security & flexibility
If your website needs specific tweaks or configuration changes we can more than likely help. With such customisation, the Universal Hosting plan can comfortably host all your favourite software.
WordPress
Magento
Joomla!
Drupal
Ghost
Want to know more?
Universal Hosting details
Out of the box we will provide you with a sensibly secured container that's PCI compliant. We will configure it using our standard settings that make sense for 99% of websites. This should mean your website will perform much faster than traditional shared web hosting. From there we hand things over to you.
If you need more performance, security or something about the hosting environment configured just get in touch. We can deploy additional security measures for you, increase existing ones, tweak performance settings, deploy caching for you - you just need to let us know. Any changes we make will be documented so our whole team understands your customised hosting setup.
All we ask is you let us keep the container up to data through automated software updates (core OS). We'll enable this as standard for you, and ask you don't disable these updates.
What do I need to do
You'll need to manage any software you decide to use on the account. If you want to use WordPress, Joomla, Drupal or Magento that/s more than fine, but we don't monitor, manage or secure the software. We ask that you keep any software you install up to date and secure.
We're happy to act as a sounding board if you have general questions about your container and the software you use, but you ultimately the software you run is your responsibility. We can also point you in the right direction if you need additional professional help with the software you use.
Website migration
If you're moving your website from another provider we will happily perform the migration for you. You just need to let our team know what software and configurations you're currently using ahead of the move so we can assist.
"It's nice to speak to people who are dedicated to supporting you."
Andrew Shanahan, MAN V FAT
"It means a lot to me that my website is reliable."
Sara Tasker, Me & Orla
"I'm treated with courtesy and efficiency whenever I contact the team."
Eamonn O'Neill, Journalist
Read more
Reliable hosting from a company you can trust
Website Hosting We're rated
See Google reviews
Customer support
Our UK based support team are open, honest & transparent
We pride ourselves on providing the very best technical support via either phone or email, 365 days a year. Based in our Manchester office, our hosting experts have supported professionals like you for over 20 years.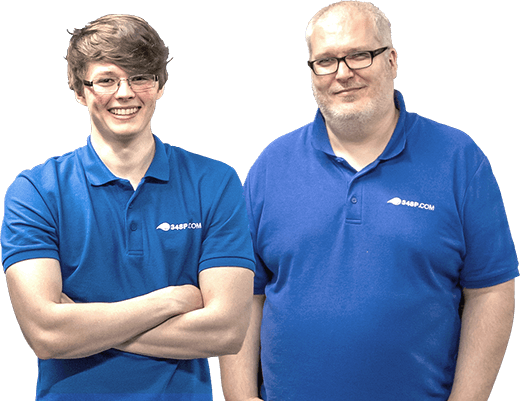 Flexible hosting, customised to your needs
Our prices always include VAT, there are no minimum contract periods and no hidden fees. The price you see is the price you pay.