Static Hosting
What is Static WordPress Hosting?
A traditional WordPress website is a very dynamic affair. When a visitor accesses your website, various processed trigger to create the page in real-time for them to view. MySQL databases, PHP processing and a variety of other complex software systems generate the page for your website visitors.
In contrast, static hosting is, well, static! When you use the static site generator feature of our WordPress hosting platform, our software goes through your website as a regular visitor would. As it travels through your site, and the content is generated, it saves each page as a standard HTML file.
Once complete, we take those HTML files and push them to a simple hosting system with a locked-down, secure web server. Your WordPress back end hosting is deactivated and all that's left are the basic HTML files for visitors to browse. You can enable the WordPress backend again, any time you like, to make changes or create new pages.
Benefits
What are the benefits of static hosting?
Static hosting is incredibly secure. By removing virtually all of the complexity from the back end of your site, there's almost nothing for a would-be attacker to hack or exploit. Your site is hosted from a unique hosting platform that does nothing but serve up plain HTML files. There's no PHP installation for cross site scripting, no database for SQL injection attacks.
Static hosting is also immensely fast. You probably won't find faster hosting. Again, due to the fact that pretty much all the hosting infrastructure is stripped away, the files can be served up at lightning fast speeds.
With your site converted to HTML files, there's also a level of portability to your website. We offer your HTML files as a simple download at any time. You can port these to virtually any hosting on the planet and host them as you see fit.
Lastly, static hosting also offers peace of mind and stability. Do you ever worry about your WordPress website falling behind in terms of theme updates, plugin updates or core? That's no longer a concern with a statically hosted website where the end result is simple, plain HTML files.
Drawbacks
What are the drawbacks of static hosting?
The flip side of the above is that the scope of your site's functionality is inherently limited by removing all that complexity. Any form of dynamic content is simply not possible using static hosting.
Choices
Is static hosting for me?
Maybe! If your website doesn't utilise any complex functionality and is more a brochure/business style site - where the content doesn't change with user behavior - static hosting could be a great choice for you. You might be able to add significant performance and security gains to your hosted site by hosting statically.
If your site uses complex functionality like shopping carts, feedback forms, static hosting is not a good fit.
"It's nice to speak to people who are dedicated to supporting you."
Andrew Shanahan, MAN V FAT
"It means a lot to me that my website is reliable."
Sara Tasker, Me & Orla
"I'm treated with courtesy and efficiency whenever I contact the team."
Eamonn O'Neill, Journalist
Read more
Reliable hosting from a company you can trust
Website Hosting We're rated
See Google reviews
Customer support
Our UK based support team are open, honest & transparent
We pride ourselves on providing the very best technical support via either phone or email, 365 days a year. Based in our Manchester office, our hosting experts have supported professionals like you for over 20 years.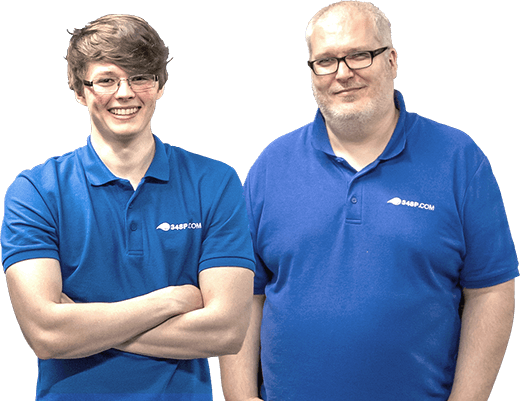 Static WordPress Hosting could improve the speed of your site
Our prices always include VAT, there are no minimum contract periods and no hidden fees. The price you see is the price you pay.