Introduction
This is a quick step-by-step walkthrough for opting out of the WHOIS database.
The WHOIS database allows individual users to look up all relevant ownership details associated to a domain name. This can include (but is not limited to) full names, addresses, phone numbers, as well as email addresses. As the WHOIS database is publicly available for everyone to view, some people may wish to opt out of having their details published.
If you do not wish your personal details to be visible through a WHOIS check, you can purchase a WHOIS Opt Out. This will replace all of your contact details associated with the domain, with 34SP.com's contact details.
Please note:
WHOIS opt out is only for domain names used by individuals, this option is not available for domain names that will be used for commercial purposes.
All non commercial .uk domain names (.co.uk, .org.uk etc) are opted out of the WHOIS database by default.
It is only possible to opt out of WHOIS with international tld's (.com, .net, .org, .co etc) via the Control Panel. If you have a national tld (.es, .ie, .fr etc) please contact our technical support team for assistance.
---
WHOIS opt out
---
STEP 2
Choose 'Manage Sites'
Once you have logged in, click on the 'Manage Sites'icon. This will bring up a list of websites or domain names you have in your 34SP.com account. Simply choose the website or domain name to wish to edit by clicking on it.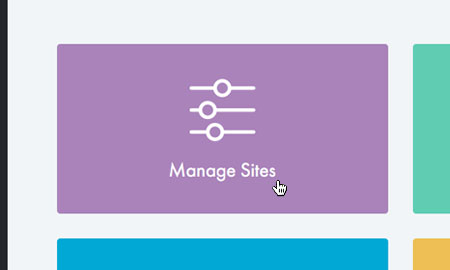 ---
STEP 3
Choose 'WHOIS Opt Out'
After you have clicked on the website or domain name you wish to edit, you will be presented with a page of icons. Please click on the icon labelled 'WHOIS Opt Out'.
---
STEP 4
Confirm WHOIS Opt Out
This will bring up a page containing information about the WHOIS database. To continue with the opt out process, click on the button labelled 'Purchase WHOIS Opt Out'.
The WHOIS opt out will then by added to your shopping basket. At this point you can either add more products to your shopping basket or click on the 'Proceed to Checkout' button and begin the payment process.
Was this article helpful?