We're based in Manchester and we've been hosting UK businesses of all shapes and sizes since 2000. We believe it shouldn't cost the earth to have fast, secure and reliable hosting with great service.
We strive to be open, honest & ethical
Our open and honest approach means everything from our pricing to our telephone support is open, honest and transparent.
We keep our pricing as simple as possible so all our prices include VAT, there are no minimum contract periods or hidden fees.
Hosting platforms built for UK businesses
All our hosting platforms are built in-house by our dedicated team of developers and system administrators.
Our data centre is a modern high specification facility, located a couple of miles away from our central office in Manchester.
Supporting British charities & education
We supply free hosting to any recognised UK charity, and we're proud to currently host 625 charity websites.
We're also passionate about education and supply free hosting accounts to a variety of educational establishments, including students from Manchester Metropolitan University.
We love the UK tech community
We're passionate members of the UK's thriving tech scene and various members of our team frequently give talks and share knowledge at meetups and events all over the UK.
We love WordPress and have been major sponsors of UK WordCamp events, helping people of all ages across a broad range of skill sets learn about WordPress.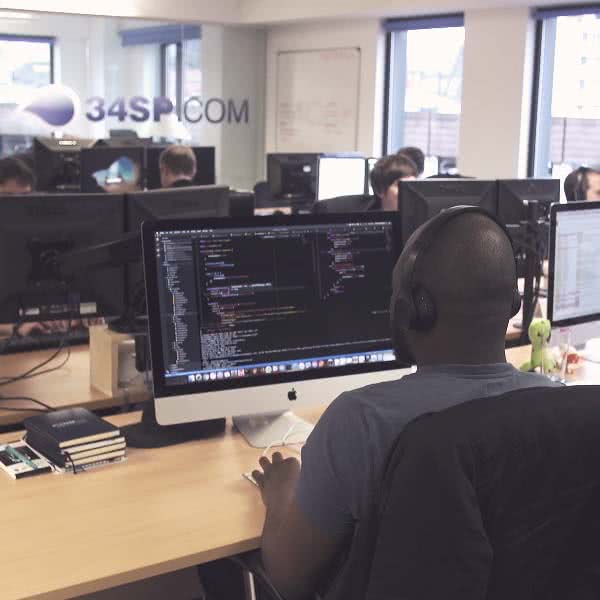 A relaxed working environment, with focus on career development
Over the 20 years we've been in business we've cultivated our own unique company culture, combining a relaxed working environment with a focus on personal development.
We work hard, but we also like to have fun too. Whether it's our monthly staff days out, a Friday night trip to the local or a late night gaming session in the office.
Follow us
Stay up-to-date with 34SP.com
"It's nice to speak to people who are dedicated to supporting you."
Andrew Shanahan, MAN V FAT
"It means a lot to me that my website is reliable."
Sara Tasker, Me & Orla
"I'm treated with courtesy and efficiency whenever I contact the team."
Eamonn O'Neill, Journalist
Read more
Reliable hosting from a company you can trust
Website Hosting We're rated
See Google reviews