Applies to:
Professional Hosting
Introduction
This is a quick step-by-step walkthrough for enabling scripting languages SSI, CGI, Perl & Python via the 34SP.com Control Panel.
---
---
STEP 2
Choose 'Manage Sites'
Once you have logged in, click on the 'Manage Sites' icon.
This will bring up a list of websites or domain names you have in your 34SP.com account. Simply choose the website you wish to edit by clicking on it.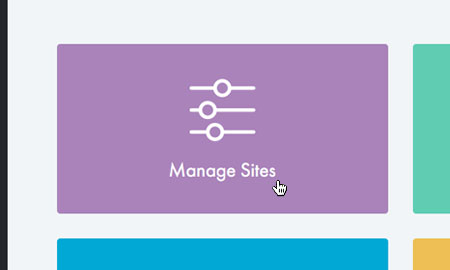 ---
STEP 3
Select 'Advanced'
After you have clicked on the website you wish to edit, you will be presented with your website overview page. Choose 'Advanced' from the product navigation.
---
STEP 4
Choose 'Scripting Languages'
Then click on the icon labelled 'Scripting Languages'.
---
STEP 5
Managing your scripting languages
The 'Scripting Languages' page provides an overview of your available scripting languages, with each language listed in a table.
---
STEP 6
Enable or disable scripting languages
To enable a scripting language, simply click on the check box for the language you wish to enable and click on the button labelled 'Update'.
To disable a scripting language, just uncheck the check box you wish to disable and click on the 'Update' button.
Was this article helpful?