Forwarding and storing emails on webmail
Applies to:
Professional Hosting
Universal Hosting
WordPress Hosting

Introduction
This is a quick step-by-step walkthrough for forwarding mail via the webmail interface. Before setting up email forwarding, please read our KB article 'Email Redirects'.
Please note: This article is only applicable for email mailboxes on 34SP.com's Mercury Mail system.
---
Forwarding mail via the webmail interface
Step 1
Logging into webmail
Firstly, you'll need to login to your webmail account at http://webmail.yourdomainname.com.
This will bring up a login form. Enter the email address you wish to access for the 'Username' and the mailbox password for the 'Password'. When you have entered the relevant details, click 'Login' to access webmail.
Please note: Where domain is "yourdomainname.com", please replace with your own domain name.
---
Step 2
Choose 'Settings'
Once you have logged in, click on the 'Settings' tab.
---
Step 3
Choose 'Filters'
After you have clicked on the 'Settings' tab, you will be presented with a list of options. Please click on the option labelled 'Filters'.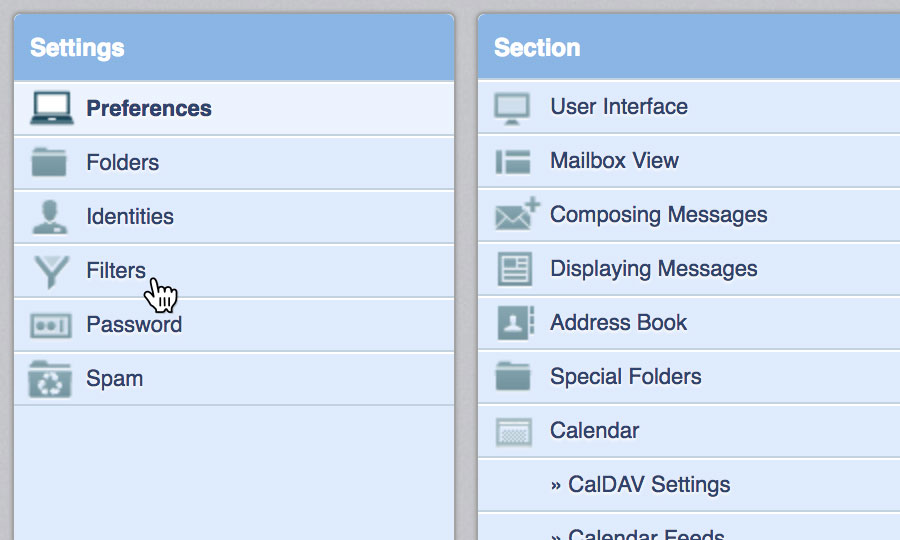 ---
Step 4
Add filter
This will bring up 2 columns, labled 'Filter Sets' and 'Filters'. Navigate to the bottom of the 'Filters' column, and click on the plus (+) icon.
---
Step 5
Create forwarding
This will bring up a form. In the 'filter name' field, give your filter a name such as 'Mail forward'.
Under the fieldset labled 'For incoming mail', click on the checkbox labled 'all messages'.
From the dropdown chose 'Send Message copy to' and enter the email address of your choice in the adjacent field.
Was this article helpful?
271 people found this article helpful