How to add links and buttons in WordPress
Applies to:
Professional Hosting
Universal Hosting
Reseller Hosting
WordPress Hosting

Introduction
This is a step-by-step walkthrough for adding links and buttons into your content, using WordPress.
Article Contents
---
Adding text links
Step 1
Create a new post or page
Firstly, you'll need to create a post or page, or edit an existing one. If you are unsure how to do this, see the following guides.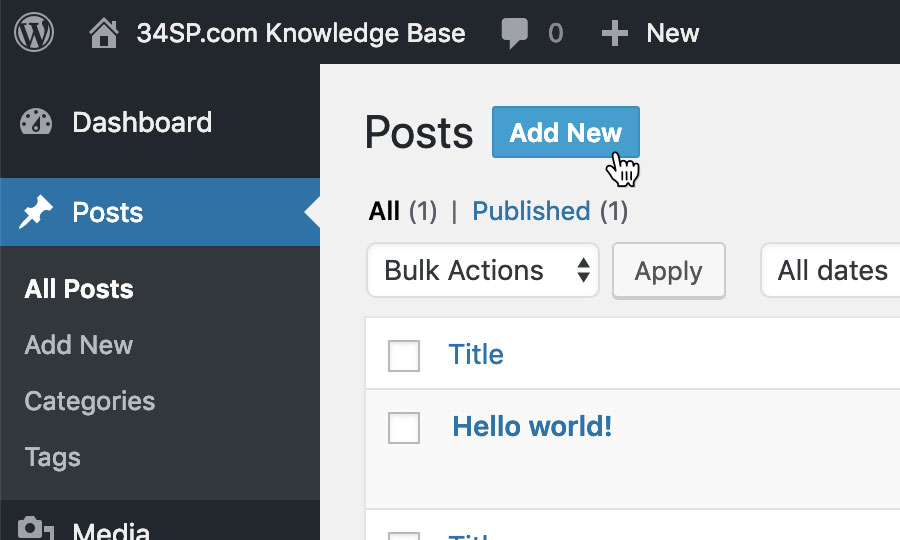 ---
Step 2
Select your text
The first thing you need to do is write some text that will create your link. Once you have written the text, simply click and drag your mouse to highlight the text.
---
Step 3
Create the link
Then click on the link icon (a chain), located in the toolbar.
---
Step 4
Enter your URL
Then enter the full URL of your link into the text field provided.
---
Step 5
Set your link to open in a new tab
If you want the link to open a new tab (recommended if you are linking to content on other websites), click on the options menu (the icon with 3 dots) to the right of the form field.
---
Step 6
Toggle 'Open in New Tab' on
Then click the toggle switch that appears, labelled 'Open in new tab'. When the switch has turned blue, it is in the 'on' position.
---
Step 7
Submit the link
To finish creating your link, simply click arrow icon.
---
Step 8
Check your link
After you have finished creating your link, you will be able to see it as the text you selected will be highlighted in blue, and will be underlined.
---
Step 9
Removing a link
If you wish to remove a link from your content, just click on the link you want to remove, then press the unlink icon (a broken chain).
---
Was this article helpful?
50 people found this article helpful